The Future of Transportation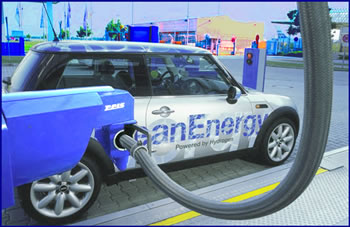 Future Cars
Fuel efficient, zero emission vehicles will use high tech electronics to assist drivers in a wide variety of ways. Vehicles will communicate with each other, with the road and with traffic signals.
Autos and trucks of the future will use vision enhancement devices to help you navigate through bad weather and warn you of a possible collision with a pedestrian or animal. They will also let you know if you are getting drowsy or straying from your lane.
Cars of the future will be radically different than the automobiles of today, and so will the driving experience.

Hydrogen Fuel Cells
In the near future, hydrogen fuel cells will change our lives. These fuel cells will power our vehicles, homes and offices more efficiently and will be less harmful to the environment than traditional energy sources. Fuel cells using pure hydrogen do not emit any air pollutants or greenhouse gases.


Flying Cars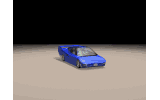 The FSC-1™ flying car can convert between car and airplane in 30 seconds.

The Moller Skycar™ uses a patented system that redirects thrust, enabling it to hover or to takeoff and land vertically from almost any surface

Maglev Trains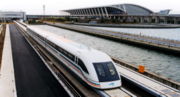 Magnetic Levitation Transport, or maglev, is a form of transportation that moves vehicles via electro-magnetic force. Maglev trains can reach speeds


Future Transportation Articles, Blogs and Web Sites
All Links open in a new window. Bold = Recommended. Links do not imply endorsement.