Optical Microscopes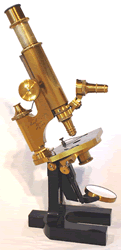 Optical or light microscopy involves passing visible light transmitted through or reflected from the sample through a single or multiple lenses to allow a magnified view of the sample.
Optical microscopes, through their use of visible wavelengths of light, are the simplest and hence most widely used type of microscope.
Typical magnification of a light microscope is up to 1500x with a theoretical resolution limit of around 0.2 micrometers or 200 nanometers.
Source: Wikipedia