They're Just Not That Into Us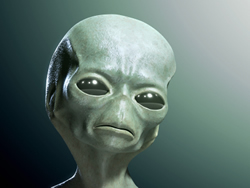 Search for ExtraTerrestrial Intelligence research projects have scanned the sky for over 40 years looking for an intelligent signal. Could our level of intelligence be unique in the universe?
This is one of those thought provoking questions I have real difficulty grappling with, because I know so little about the subject.
The same thing happens when I shop for my wife's birthday, so I've opted to apply the same marginally successful method of reaching a conclusion: make a list, then take a shot in the dark as to which one of them is right.
Why is there no scientific evidence of extraterrestrial intelligent life?
Possible answers:
We are the only intelligent life forms.
We are the first, or one of the first, intelligent life forms.
More of the universe needs to be searched.
We are not searching correctly.
Intelligent life exists, but they choose not to be known to us.
Governments are hiding the evidence.
Evidence exists, but is not accepted by the public.
Aliens use a different form of communication we cannot detect.
Unfortunately, I feel the most likely reason that we have not located an alien presence (or Aileen's presents), is that we simply have not looked long enough. I hope there is space at the mall.
I would like to give a shout out to the people at The SETI Institute for having the foresight and diligence to be listening.
About Jack Hanson